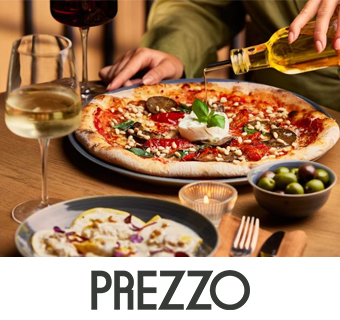 You can enjoy all your Italian favourites and some more; From bubbling pizzas and scrumptious pastas to traditional bruschetta and classic Tiramisu, there's something for everyone.
At Prezzo, new seasons are just new reasons to celebrate! Prezzo is celebrating Autumn with exciting new sharing dishes, pastas, pizzas, desserts and cocktails, that we're sure everyone will love.
Come and experience our new starters & sharers like Mushroom & Gorgonzola Bruschetta or the Pumpkin & Mozzarella Arancini, perfect for you or the table!
Alternatively, you can enjoy our delicious new handmade Spinach & Ricotta Cannelloni perfect for a Autumn evening. Or if you feel slightly more advantageous, you can go for our Roasted Aubergine, Burrata & Basil Pizza.
If there was ever an excuse for desserts, try our new Sticky Toffee Pudding, delicious with a scoop of Joe Delucci's Ice Cream. Or if you were looking for something richer and for the chocolate cravings the Prezzo Chocolate & Cherry Sundae is the perfect match!